We created a comic strip to illustrate the kinds of conversations people are having around mask-wearing and the pandemic in general: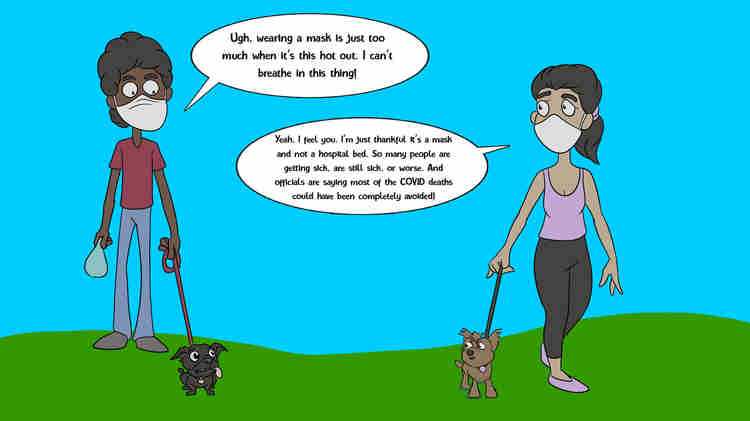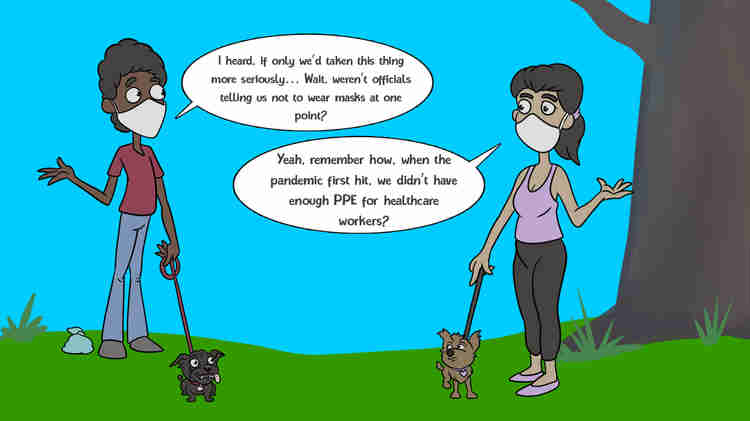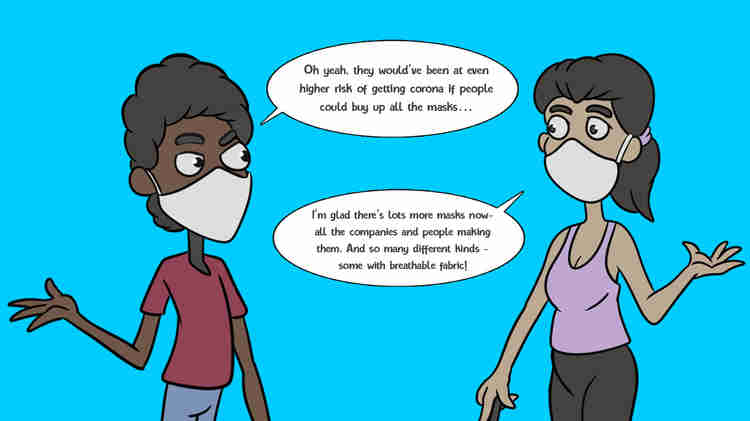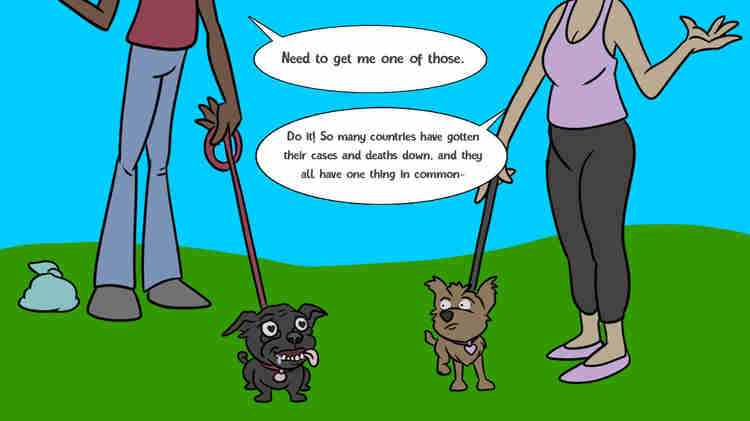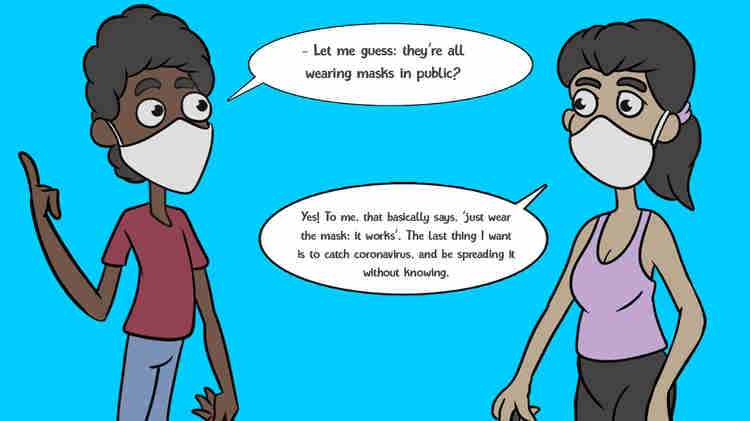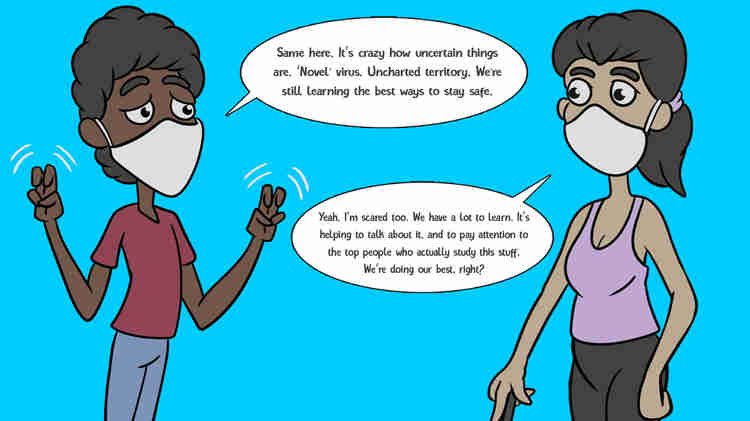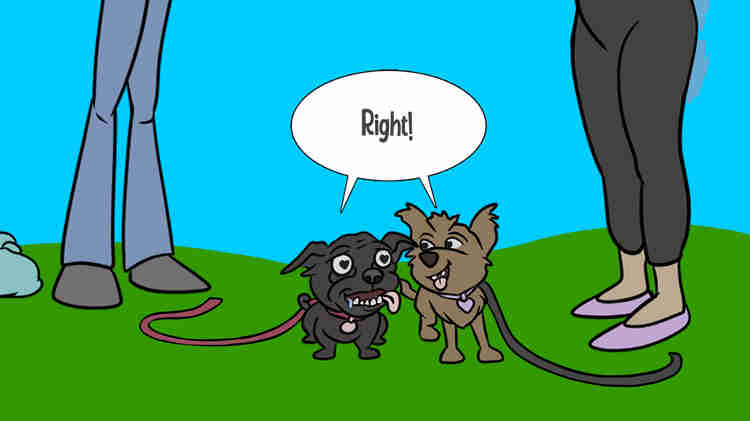 When the World Health Organization declared coronavirus a global health emergency on March 11, 2020, everything ground to a screeching halt.
Non-essential businesses were shuttered. Governments urged people to stay in their homes and only leave when absolutely necessary.
COVID-19 (the disease caused by coronavirus) has spread to nearly every country on Earth, and as of now, there have been over 17 million recorded cases, and 671,000 recorded deaths.
Even as virus cases continue to surge in the U.S., businesses are starting to reopen, and people are increasingly starting to go out in public. Things are scary, uncertain, and in many ways continuing to deteriorate.
But not all hope is lost. Each one of us can play an important role in helping slow the spread of the disease and flatten the curve in our local communities.
Wearing a face mask is a simple, effective way to protect ourselves and anyone we interact with. Let's explore why and how; lay out important mask-wearing tips; and discuss reasons many Americans have struggled to adopt mask-wearing as the norm.
Do masks work against coronavirus?
Nearly all medical experts are in agreement: masks work against coronavirus. It's an airborne illness, and we have plenty of scientific evidence showing that proper mask-wearing prevents the spread of airborne illnesses. Plus, a recent study in Health Affairs showed masks work against coronavirus, specifically. Comparing the rate of COVID-19 infection before and after government mask mandates in 15 states and DC, the study concluded that wearing masks in public significantly slowed the growth rate of COVID-19 infections in those regions.
The best protection, of course, is staying home, and limiting interactions with people outside your household (or in some cases, your strict social "pod"). When we have to venture out into public, for groceries or other essential supplies, wearing a mask is an absolute must, since there, we're at the highest risk of exposure.
The World Health Organization has reported that as many as 80% of those infected with COVID-19 only experience mild symptoms, or show no symptoms at all — meaning any of us could be spreading a fatal disease to others and not even know it. That's why it's so important to wear a mask, even when we aren't showing symptoms.
What does a face mask do?
The mask's main function is to block the droplets that naturally come out of our mouths whenever we talk, raise our voice, cough, or sneeze. Coronavirus spreads itself through droplets, and is highly contagious. A mask keeps those droplets from spreading through the air around you, into other people's mouths and noses.
Wearing a mask doesn't just protect other people; it protects you, too. A growing body of evidence suggests that wearing a mask doesn't just give you a lower risk of contracting COVID-19, but even lowers the severity of your symptoms if you do get it.
What factors make a mask most effective?
N95 respirator masks (or their FFP2 European equivalents) and surgical masks are the most effective at filtering out the virus-carrying droplets, but these masks are in limited supply, are scarce during a pandemic, and contribute to landfill waste. So let's reserve the N95's and surgical masks for the people who need them most; namely, frontline healthcare workers.
Some masks have a valve that makes breathing easier, but these don't provide adequate protection for other people who are exposed to the particles you exhale.
A simple cloth face covering can filter as much 89% of the virus-carrying droplets. Even makeshift masks made out of household materials like a T-shirt and a rubber band can filter between 49% and 86% of airborne droplets. What matters most is that the mask is worn properly, and that the wearer practices good hygiene before, during, and after.
Here are some things to keep in mind when you wear a mask:
Thoroughly wash your hands, directly before putting it on and directly after taking it off.
Use the mask's ear straps and/or nose bridge to place the mask over your nose, ensuring it fits securely on the each side of your face, and secure it under your chin. (Don't let it hang over your neck.)
Make sure you can breathe easily. A properly worn mask won't restrict your breathing.
Resist the urge to touch your mask, or your face. (It can feel weird having your face covered up all the time, but remember: the mask is there to act as a protective barrier. It prevents contact with your nose and mouth, where the virus can be transmitted. If you have to touch the front of your mask for whatever reason, wash your hands as soon as possible to disinfect them.)
When taking the mask off, use the ear straps and/or nose bridge.
Keep your cloth mask clean by throwing it in the washing machine weekly.
Placing your mask in the sun for several hours, for direct UV light exposure, may also help disinfect it. (Further research is being done in this area.)
Where to get masks?
Cloth/fabric masks provide adequate protection and are widely available. Here are a few places where you can pick one up:
Everlane: Everlane's "Human" line of unisex face masks are a way to keep yourself and others safe while contributing to a good cause. Their masks are a part of their "100% Human" campaign: for every 5-pack of Human Face Masks sold, Everlane will donate 10% of their sales to the ACLU. These reusable masks are made from double-knit fabric and cotton ear-loops for extra comfort.
Levi's: Their line of reusable, reversible masks feature their classic bandanna print so you can look good while staying safe. Levi's has also donated $75,000 to Doctors Without Borders when they released this line of face masks.
(Full transparency: these recommendations are not part of a paid sponsorship with Everlane or Levi's. The companies are merely examples of those that are operating with corporate social responsibility during these times.)
Ok, so we're supposed to wear masks… then why aren't we?
A study released in June showed that countries such as Japan and Vietnam, which had public health guidelines and cultural norms that favored mask-wearing, saw lower mortality rates from coronavirus.
In the US, mask-wearing hasn't been as popular, and we've paid a steep price in human lives and suffering. It's important to understand why Americans weren't (and aren't) on board with masks, so that we can communicate effectively to these groups and protect more people going forward.
At the onset of the pandemic, the N95's and surgical masks that are most effective were in scarce supply and, understandably, reserved for hospital staff and healthcare workers.
Plus, public health experts didn't know how much people could spread the virus before symptoms appeared. Now we know that people can be infected with the virus (and spreading it) for at least 5 days before showing symptoms, if they show any at all.
A policy like a public mandate requiring people to wear masks in the middle of a pandemic only works if people are willing to put up with personal inconvenience for the sake of the greater good.
Anyone who's familiar with American culture and history knows that most Americans aren't about to do that. US law has traditionally interpreted the Constitution as prioritizing personal freedoms over collective rights. American society is far more individualistic than many of the Asian countries that implemented mask mandates at the start of their outbreaks, and saw far less cases and deaths as a result.
The growing anti-masker movement in the US makes the argument that policies such as enforced lockdowns, quarantines, and mask regulations are a violation of the individual rights granted to them by the Constitution. One could also make the argument that America's strong leanings towards individualism has created a culture of entitlement and narcissism, in which the premise of wearing a mask — for protecting not only yourself, but other people, too — can be a very hard pill to swallow.
It's not all bad news, though: as it turns out, in spite of all the anti-mask demonstration videos on social media, 75% of Americans support mask requirements. Perhaps America isn't as divided as we might think, and the people who're outspoken against wearing masks are just a small but very vocal minority.
Be informed and save lives: wear your mask
We all want this nightmare to be over and things to go back to some semblance of normal. That's perfectly understandable. But the pandemic isn't going away anytime soon. Our best hope at overcoming it sooner rather than later is following public health experts' advice — including wearing a mask. It may feel like an inconvenience, but the decision to do so can save lives.
Ultimately, one of the most effective tools we have against the virus is information. When we're adequately and accurately informed, we make choices that have a positive impact in our communities and the world. As always, we're all in this together.
SpaceshipOne has done the research so you can get the facts on COVID-19 and quiz yourself on what you know — and maybe even challenge a friend to see if they can beat your score!